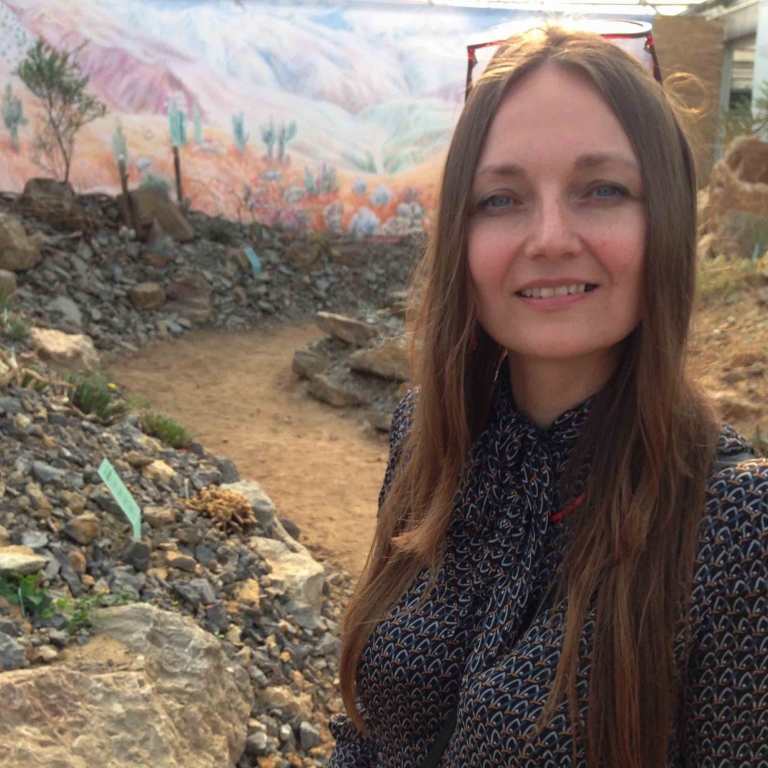 LUCIE CROCRO was born in Prague in 1970. She is represented in private collections f.e. in the Czech Republic, England, Belgium, Denmark, France, Italy, Israel, U.S.A..
1989 – 1997 – studies at the Academy of Fine Arts in Prague under Prof. Jitka Svobodová.
Study sojours:
1992 – Summer – Academy of Grphic and Plastic Arts in Perugia (Award cf the Academy for figural drawings).
1992 – Autum – Royal College of Art in London, Studio of Prof. Bryan Kneal.
1994 – Spring preparation for the study at Karnataka Chitrakala
Parishad (Academy of Graphic and Plastic Arts) in Bangalore.
1995 – Bangalore,India
1997 – graduation work at the Accademy of Fine Arts "Abduction of Europa".
In 2002 – Lucie Crocro presented her work et individual exhibition in ,,Albatros" Gallery in Prague.
Since 2003 she has been living and working in Prague.
At the beginning of 2004 she started preparing the idea of Femancipation.
Participation on exhibitions:
1991 – Exhibition of Academy of Arts, U Hybernů, Prague
1992 – "Trehearne and Normans", St. James's (Piccadilly) London
1992 – "Drawings From the top Floor" Royal College of Art,London
1993 – Exhibition of Academy of Arts, U HybernÛ, Prague
1996 – Exhibition of Spoyka Stik Artists, Pyramida, Prague
1997 – " Les differentes ensemble", part of the project Paris -
Prague – Paris,Chodov Stronghold, Prague
1997 – Výstava ateliéru kresby, Akademie múzických umění, Praha
1998 – Studio of Drawings, Gallery of Academy Music and
Performing Arts, Prague
1998 – Veletržní palác, National Gallery Prague
2001 – "I. biennal international de Diduix, Josef Amat", Spain
2002 – Het Luik Gallery, Mechelen, Belgium
2003 – "II. biennal international de Diduix, Josef Amat", Spain
2005 – Evening of Orchids,drawing exhibition for
Femancipation,o.s., Prague
2006 – Loukamosaic Project, Botanical Garden of Charles
University, Prague
2007 – Drawing exhibition, Loukamosaic Project, for
Femancipation,o.s., Botanical Garden of Univerzity
Hamburg,
2008 – Loukamosaic Project, Mining museum Příbram
2009 – Loukamosaic Project, Czech Museum of Music, Prague
2010 – Loukamosaic Project presentation, Regional Research
Library, Liberec
2011 – Loukamosaic Project, exhibition hall in Troja Castle,
City Gallery Prague
2012 – Loukamosaic Project, Nord Bohemian Museum in Liberec
2012 – Loukamosaic Project, exhibition hall in Troja Castle,
City Gallery Prague
2013 – Loukamosaic Project, exhibition hall in Troja Castle,
City Gallery Prague
2014 – Hommage á Bohumil Hrabal, City Gallery Prague
2014 – Gallery 1 Prague
2015 -  " Paysage vu et caché"  Galerie Co Co Dobrš